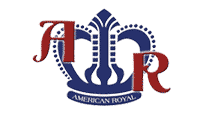 The Royal came and went. It was a long weekend for us and we cooked some good food. We also turned in some stuff that we didn't think was quite up to our standards…but that was bound to happen as we've had a pretty good run leading up to this one.
We have traditionally gotten beat up by the judges pretty bad at the Royal in the open contest. Seems the more experience we have and the better we get, the worse we finish in Royal Open each year.
Our first year out there we had no idea what we were doing. We finished in the 190's overall and had top 100 finishes in two categories. Since then it's been a steady decline into the abyss, culminating with a finish in the low 300's last year. Well, we must be back to our first year form in 2008, but we still just can't crack the top 200 as we finished 201st.
Our brisket, which has been our best category all year, was awful. True to form, it was our best scoring product. Awesome!
But we still had a great time and we did do pretty good in the invitational. It's a goal to be in the American Royal Invitational every year for us and this was our second go 'round in that dance.
We improved on our '07 Invitational finish, ending up in 17th place this year (100 teams). We just missed calls in chicken and ribs (22nd and 20th places) but did score a nice ribbon for 5th place pork. That was a real accomplishment for us in that field of cooks…the best of the best, with every one of those teams having won a grand championship in the past year. Our brisket pulled
us down, finishing 76th, but I can't say that I disagree with that. It was not the same product we have been turning in lately. The judges got that one right.
We have already qualified for the 2009 American Royal Invitational, so we'll be back to take another crack at it next year. But until we hear our name called for a ribbon in the American Royal Open - in any category, I think we will always feel like our list of accomplishments, however large or small, will be incomplete. In fact, as I am writing this, I decided to check the sausage results…that was the one ancillary category that we entered. The result: 59th! We're getting closer!